Okay, I might still be on a rainbow kick. I'm not at all sorry, though, rainbows are delightful. This week, I'm back with another rainbow veggie recipe, but this time, we're keeping the veggies raw and bright. It's always so hot in July, and there's nothing I'd like more than to continue my fresh, cold, crunchy food trend. 
And whether it's July or December, salad weather or soup weather, I'm honestly always craving Vietnamese and Thai food. I moved away from my favorite Thai restaurant in February and my life just hasn't been the same since. I miss it every Friday. My typical Thai orders involve satay chicken and spicy curry, but no meal is complete without summer rolls. They're addicting even though they're so simple, and making them at home is not as hard as it seems. Plus, summer rolls are often served with peanut sauce, and I could bathe in that stuff (Kush Queen hasn't approved a  peanut sauce-scented bath bomb yet, so I guess I'll stick to the Citrus and Matcha bath bombs for now). But this peanut sauce is twice as dope because it's got a healthy dose of CBD oil. Who knew you could make peanut sauce even better. 
Summer rolls are actually Vietnamese, but have become popular in Thai restaurants as well. They are different than spring rolls—it's summer name was a seasonal play on spring rolls—primarily because they are not fried, and are usually a little bit bigger, but sometimes the terms are interchanged. Though I love a crispy spring roll, I prefer the refreshing chill from a summer roll. They're often made with shrimp, but are also made with chicken, tofu, and just veggies on their own. It's an all-around wonderful and versatile meal that's easy to make too much of.
The most time-consuming part of this recipe is cutting up your rainbow veggies. I recommend julienne-style so you get an easier mouthful but also because it's easier to roll. It always takes me forever but it's worth it, I promise. In this recipe, I've also added a hint of sweetness with a few slices of strawberry and mango in my rolls. Once that's done, everything else is smooth-sailing. Usually.
While you're cutting your vegetables up, bring a pot of water to a boil. When the water is bubbling, add your vermicelli rice noodles and stir. Be mindful, because these noodles are very thin and do not take as long to cook as traditional noodles, it's easy to forget about them. But if they're overcooked, they'll turn to mush in your hands and won't make nicely-shaped rolls.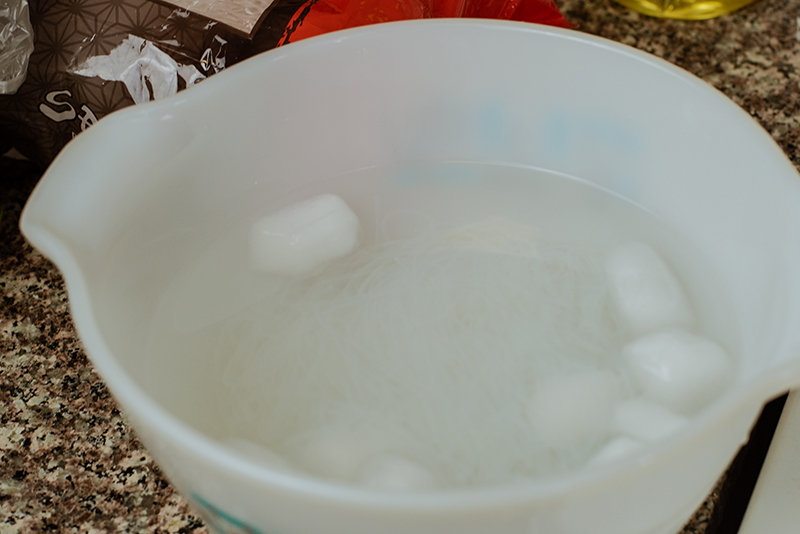 Prepare an ice bath for the noodles (ice baths are simply ice and water in a bowl that will shock your hot foods and immediately stop the cooking process). When your noodles are ready, strain them and toss them in the ice bath. When the noodles have cooled, I like to drain them and sprinkle a bit of rice vinegar and salt on them. I do the same thing when I make sushi rice, and I like the flavor it adds to the rolls.
Next, we'll make the peanut sauce. I like to do this prior to assembling the summer rolls, because I find that summer rolls will do one of two things the longer they sit: they either get too soft and sticky and tear easily, or they get stiff and chewy.
The peanut sauce is so quick that you can throw it together in the microwave. You could also heat it on the stove, but I'm all about shortcuts. Combine all the ingredients except the Bare CBD oil in a small bowl, and microwave for 15 seconds at a time. Depending on your honey and peanut butter, sometimes it can come to a boil quickly. I love crunchy peanut butter and think it adds a nice additional texture to the sauce, but creamy peanut butter works great, too. When the sauce is hot and the peanut butter melts with a quick stir, add the CBD oil. If you cook the sauce too long and it becomes thick, I find adding a little extra water at a time smoothes the sauce out and makes it much easier for dipping.
Lastly, let's assemble!
Prepare a hot water bath in a wide bowl. It needs to be a higher temperature than lukewarm, but needs to be comfortable to the touch. Take one sheet of rice paper wrapper at a time, and submerge the sheet in the water. After a couple of seconds, place the wrapper on a cutting board or smooth surface. I like to dangle a very small bit of the wrapper from the edge of the cutting board to make it easier to grab.
Layer your ingredients. I usually start with noodles first but there's no hard and fast rule. If you add a decorative top, like I've done with my fruit, place them slightly above the rest of the ingredients. It will help separate them with a wrapper layer and they'll stay clean and pretty.
When I roll, I start from the bottom and follow the same rules as burrito-wrapping. Bring the bottom over your primary ingredients, and pull in slightly to tighten the wrapper around. Then, fold the left and right sides over. Lastly, continue to roll the rest of wrapper up, pulling inward to yourself with just enough pressure to keep everything tight.
You can cut your rolls in half, or in quarters, if you'd like. I really enjoy keeping them whole because I lose less filling when I dip them in the peanut sauce. However you'd like to plate them, I hope you enjoy them. I know I could eat them every day and never get bored. So, continue enjoying the rainbow this summer and save yourself a few bucks on delivery!
---
Don't forget to follow and tag @kushqueenshop & @kushqueenco in your Instagram posts and stories.
Upgrade your favorite recipes with Bare Daily Wellness CBD Oil! Shop below!