By: Olivia Alexander
As Pride season kicks off, its the perfect time to celebrate the shared history of cannabis and the LGBTQIA+ community. With weed being so hot right now, we never want to forget that this progress was hard fought by some of the most marginalized people in society: the activist and leaders of the LGBT movement. It was the fight for LGBTQIA+ liberation and against HIV/AIDS that led to what we know as modern legalization. We don't believe we would have progress without the work of these often overlooked heroes. It's our hope to honor their spirit and keep their passion for medical cannabis access alive.
The Spark
Our modern Pride celebrations commemorate the Stonewall riots, which were only 12 years after the AIDS epidemic had first flared. This was only 3 years after the 1979 White Night Riots in San Francisco. These riots were triggered by the lenient sentencing of ex-cop and ex-supervisor Dan White for the assassination of openly gay Harvey Milk and his political ally, city mayor, George Moscone.
Harvey Milk was the first elected Queer in America, he pioneered decriminalization laws in his brief time in office. Milk was influential in the passing of Proposition W, the first initiative to decriminalize marijuana in San Francisco.
The Shift
The death of Harvey Milk would lead to a more fervent community activism machine that would eventually mobilize local funds for AIDS care and research. It would also build momentum and agitate for statewide medical cannabis access. The outrage over Milk's death would energize a community unknowingly on the brink of an emergency. It would lay the foundation for lifelong activists out of many LGBTQ individuals in a time they would need it most. Activist like Cleve Jones, who was elected in 1982 to the San Francisco Democratic County Central Committee where he served three terms. He was crucially in a position of power,  as the community demanded funding for AIDS research and care. Patients and activists were lucky to have Jones and the board of Supervisors in San Francisco during this time who allocated millions to AIDS programs in the early '80s. The city of San Francisco allocated millions more than the National Institute of Health did for the entire country.
While San Francisco managed to deal with the epidemic in a compassionate and swift manner, AIDS funding and the search for treatment hit federal roadblocks. Ward 86, founded in San Francisco General Hospital, was known as the worlds first AIDS clinic, established with the board of supervisors investments. The FDA and NIH would drag its feet for years when it came to testing and making available promising treatments from overseas. But with AIDS, people could not wait for federal help.
As the epidemic spread and the Federal government did nothing to act, aids patients wondered if they would die from AIDS or from the side effects of AZT. To compound the issues, the Regan Administration began its war on drugs, denying AIDS patients access to Cannabis which helped to combat the painful side effects of treatment. Thousands with AIDS died alone and many were cast out by their own families.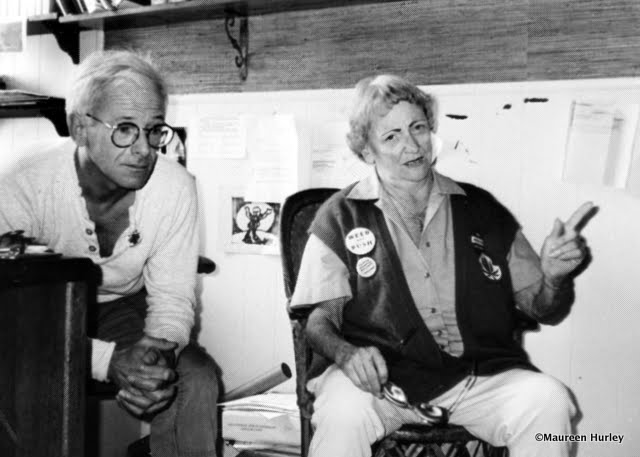 The Activists
While many watched and ignored as these injustices were unfolding, there were people like Mary Rathbun who refused to sit idly by. Mary was a volunteer at San Francisco General Hospital, also known as " Brownie Mary" because would hand out cannabis-infused brownies to the patients.
Dennis Peron, a friend of Harvey Milk's would rise to be the father of medical marijuana. Peron was part political activist, part outlaw. He was a local dealer previous to the epidemic but quickly saw the plants healing properties helped with the side effects of AZT. Peron's lover, Johnathan West would long inspire his work around medical cannabis access and compassionate care.
Peron told the LA Times "Marijuana made me the person I am." and shared how it felt when his lover lost the battle with AIDS. "At that point, I didn't know what I was living for. I was the loneliest guy in America," Peron said. "In my pain, I decided to leave Jonathan a legacy of love. I made it my moral pursuit to let everyone know about Jonathan's life, his death, and his use of marijuana and how it gave him dignity in his final days."
Image by Andy Kuno via The New York Times
The Change
It's from these roots of activism and compassionate care that Peron and "Brownie Mary" would found the San Francisco buyers club, arguably known as one of the first dispensaries in American. Peron and Rathbun would help pass Proposition P in 1991. They would then go on to ultimately write Proposition 215 in 1996.
Sadly, Dennis Peron passed in early 2018, but the legacy he left behind will not be forgotten. It is thanks to him and the many other activists that committed their lives to supporting the medicinal use of Cannabis, that we are able to openly and passionately share this plant. This is why it is so meaningful to celebrate the LGBTQ communities work from the lens of a cannabis company. Our roots are deeply intertwined with LGBTQ history and now more than ever we believe in the importance of standing up for equality.
This year proceeds from our Pride Collection will be donated Trans Life Line as we stand in solidarity with our LGBTQIA+ community.
---
Don't forget to follow and tag @kushqueenshop & @kushqueenco in your Instagram posts and stories.
Shop Kush Queen CBD Products and the Limited Edition Pride Collection below!